Advertising
Advertising
Dear readers, today we are talking to you not about one, but about two creations offered by Junghans in a unique and exclusive box. The watchmaker plays here in monochrome and draws inspiration from the graphic illustrations "Variation 5" by artist Max Bill with a proposed duo in a limited edition: the box Max Bill Edition Set 2020.
Irresistibly minimalist, known for his Bauhaus inspiration, Junghans presents us with a magnificent box. Inside this black dress, we discovered a set of two watches, namely the Max Bill Kleine automatic and the Max Bill Chronoscope. These models oscillate between light and shadow with each steel case and deep matte black dial, bracelet and white numbers. Junghans sails in the pure and even sharp contrast between these two nuances. The set is beautiful, terribly clear, clean at will, minimalist as always. We don't change a winning team!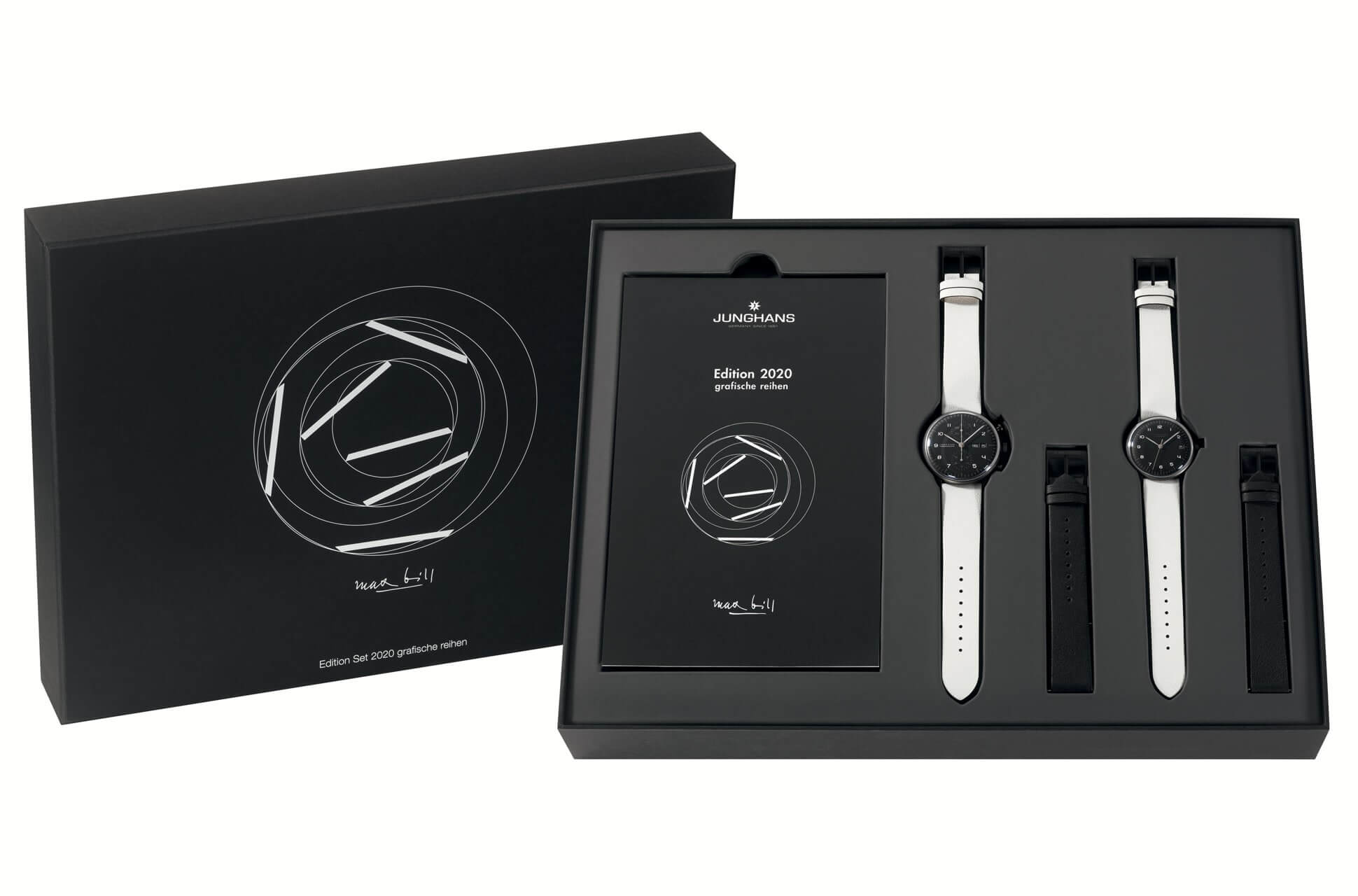 In terms of details, there is the famous classic Max Bill typeface on the numerical level, as well as a white SuperLuminova lining on the fine satin hands. The Kleine automatic It is adorned with a 34mm case and a single date window at 3 o'clock. The Chronoscope It wants to be a little bigger from the top of its 40mm diameter, but also more elaborate, as it displays on its dial an additional 12-hour counter at 6 o'clock, an additional 30-minute counter at 12 o'clock point as well as a day / date window at 3am The set is protected by a domed sapphire crystal and anti-reflective treatment on both sides.
For the immaculate bracelet, the brand chose a smooth and elegant calfskin, which stands out beautifully on the wrist. For those who prefer more conventional black, it is quite possible to change it as an additional dark bracelet is also available.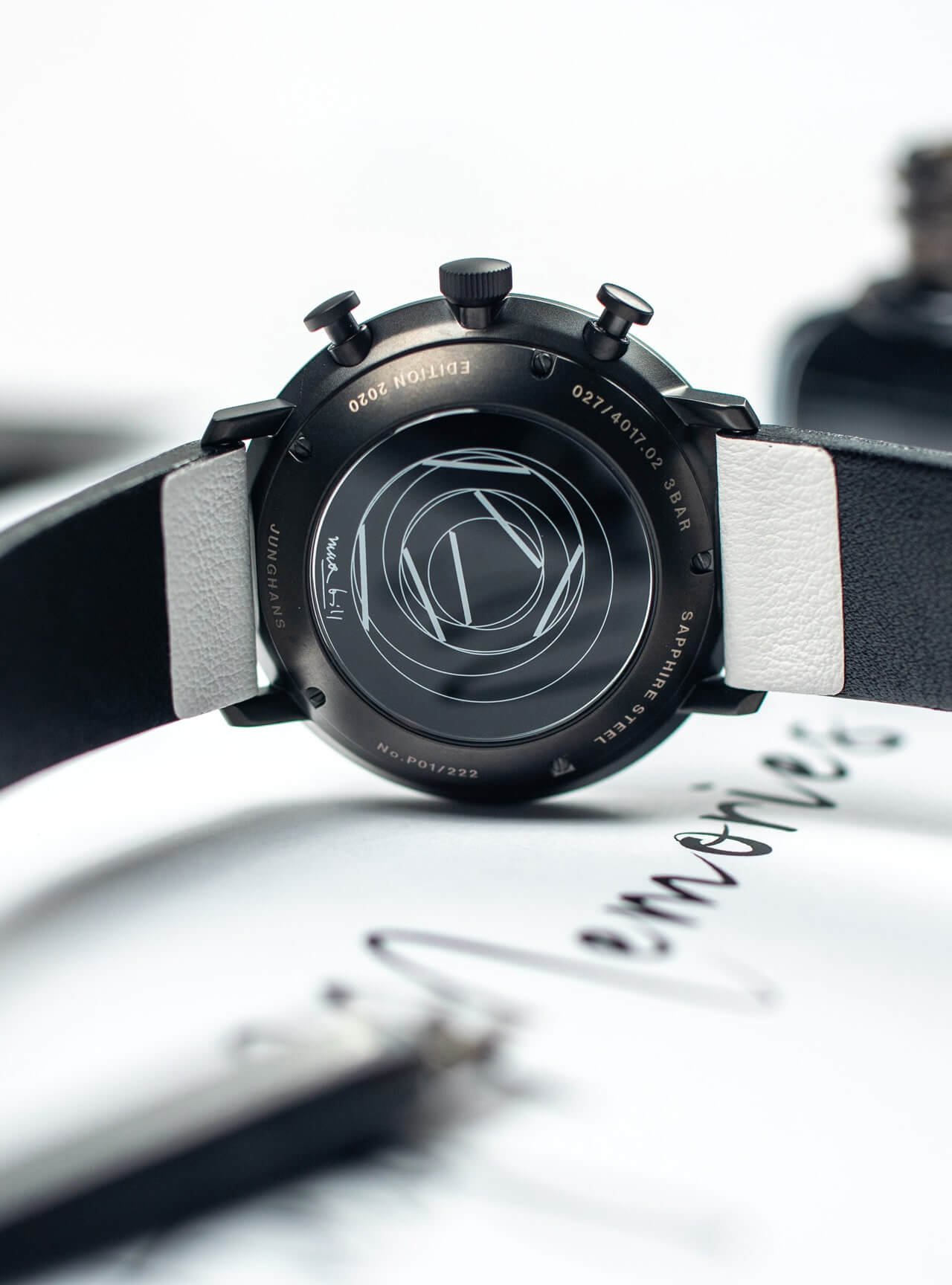 On the back of each watch, you can admire the illustration "Variation 5" from the first graphic series "Fifteen variations on the same theme" produced by Max Bill, with the aim of exploring different variations of the geometric shape, to demonstrate "The infinite number of hidden possibilities in concrete art ".
These two great watches are powered by an automatic J880.1 caliber. The Kleine automatic offers a power reserve of 38h, against 48h for the Chronoscope.
This box has been designed for lovers of Junghans, but also for those who appreciate the work of Max Bill and the unique style of the Bauhaus school. These two models slip perfectly into everyday life while showing a relatively pointy look with a touch of originality.
And because it's a limited edition, know that this box Max Bill Edition Set 2020 Only 222 copies are available worldwide, available from authorized watchmakers since June 2020 at € 2,995.
https://www.amazon.com/gp/search/ref=as_li_qf_sp_sr_il_tl?ie=UTF8&tag=drone2104-20&keywords=watches&index=aps&camp=1789&creative=9325&linkCode=xm2&linkId=0baa94dab6b2fe2bbe86c997351d7b3d