Advertising
Advertising
Created in the mid-19th century, the Swiss brand has evolved today. But what distinguishes Omega from other watch brands and how can it find its way through time?
Why buy an Omega Vintage?
Today it is easier to buy the watch of your dreams, through the Internet, the choice is immense, but the needs and aspirations of watchmaking enthusiasts are very different. There are many factors involved in choosing a watch Omega.
Timeless designs.
Omega has often chosen a sober and timeless style. Many of the so-called "classic" watches have a wide variety of high quality dials, indexes and hands. The housing and overall appearance of a classic Omega watch from the 1950s is similar to some of the Zenith Elite or Jaeger Lecoultre Master Control controls today.

Manual watch from the 60s (around 300 euros)

Modern coaxial automatic watch (around 3000 euros new)
Watches with an unbeatable value for money.
Omega has a lower rating in the collectible watch market than many other brands for many reasons. Initially we can observe the large number of watches produced that naturally offers a much wider option for the watch lover and has the effect of lowering prices. In addition, it does not have the same image as Rolex. The comparison with Rolex is interesting, the two brands compete in similar markets such as sports watches and it is still the case today. Take for example two watches, an Omega, a Rolex, at the same time, both equipped with a date, in steel, three hands.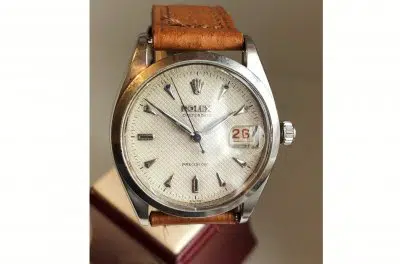 Rolex Oysterdate 1953 equipped with the inaccurate 740 caliber (retail price around 1300 euros)

Omega Seamaster of 1954, also equipped with a date but in an automatic bumper version (355 caliber), better movement more elaborate than Rolex (sales price around 500 euros).
In this example, we see that Omega outperforms Rolex in a good value. The first Rolex Submariner has a hollow steel belt that causes irreversible wear in normal conditions and buckles made not of mass machined steel but of folded steel plates, which is less expensive to produce. Brands like Heuer and Tudor have also seen their prices rise. These watches have many advantages, certain models have marked the spirit, especially in car racing on the wrist of renowned drivers. However, the price is not justified by the quality. However, it can be a good investment for those looking for a property that can gain value after a few years.
In Omega, it will often have a higher quality than the brands mentioned above for a much lower price. Some important details are only visible to the watchmaker. The pinions, pivots and axles of the wheels are machined from the best steels, perfectly polished, with an incomparable level of hardness. One can only be impressed to see these mechanisms that have been working for 70 years and have no signs of wear or scratches. You can observe a wheel pivot under the microscope without noticing the slightest defect. These watches were made to last. It is very common to see handmade watchmakers with a vintage Omega on the wrist.

Omega caliber chronograph exposed
For the price, if you are looking for a simple, automatic or manual 3-hand watch, you can find it in good condition for less than 500 euros, not bad for a watch that you can keep for life and bequeath your descendants!
Relatively easy to find parts at a reasonable price
In this example, we will separate two very different types of parts, the moving parts (wheels, sprockets, etc.) and the covering parts (dials, hands, etc.).
For movement parts, Omega watches are equipped with copper-plated house movements. The pieces are generally quite simple and cheap to find compared to other brands that produce their own movements at the same time.
For dressings, there is a wide variety of crowns, dials and hands available on the Internet. Many watchmakers have stocks and offer solutions in case of breakage. The lower seals and the glasses have standardized shapes, however, most plastic glasses are screen printed, you can see a small sign () in the center of the glass with a magnifying glass. If your screenprinted glass is scratched, prefer to polish the glass to a final change.

An example of a clock with a modified dial with lines that extend beyond the indexes. For collectors, be sure to verify the origin of spare parts for purchase.
What time to choose?
Before choosing the time of your watch, think carefully about the use of your future Omega. Your options will vary according to several criteria: Is it a watch that you want to display in a showcase, that you want to wear occasionally or every day?
Pocket watches They are part of the history and identity of Omega, the quality is excellent in every way. Well reviewed, it can even be used as a bedside clock.

Pocket watch from the beginning of the century in 18-carat gold (around 1000 euros)
Watches produced before 1938 It has no anti-shock (system that protects the balance in case of impact). It will be necessary to verify the reference of the movement in all cases if you want to have a watch equipped with shockproof, this will not be in any way an obstacle, you can use one, however, you must avoid dropping it at all costs. It would increase the chances of breaking kittens or pendulum axis. The choice is huge for pre-war watches ranging from enameled clocks with round boxes or cushion-shaped boxes in the 1920s. However, all the boxes are not original, sometimes you can prove that the case The watch actually comes from an adaptation of a pocket watch, particularly for watches that come from the US second-hand market.

Omega t17 from 1930, non-original reworked sphere (around 1000 euros)
1940s watches They are a very interesting period. The movements are reliable and robust for any test, the 30t2 is a flagrant example and is probably the caliber that I recommend the most, it is a manual movement that allows to gain some space in case of thickness and reliability. This caliber was manufactured long before the invention of planned obsolescence and can withstand all the damage of time. The 27dl is a very interesting option also for lovers of complications.

Omega from the 1940s with original dial (around 500 euros)
30t2 manual movement with small seconds (more reliable than the model with central seconds)
Fifties They are marked by a more pronounced demand for automatic watches with the democratization of the "bumper" system already present in the 1940s. In a modern automatic movement, the rotor rotates thanks to the wrist movement at 360 degrees to wind the clock. In this system, the rotor has a limited stroke and impacts the walls of the movement. If you buy a watch equipped with the 355 caliber, for example, you will feel the blows produced by the bumper at the first wrist movement. It is a sensation appreciated by lovers of this millenary technology.

Bumper 354 movement – Omega constellation (between 300 and 500 euros)
The 60/70 It marks a turning point for the brand, the 30-caliber production stopped in 1963, 320 and 280, but in 1968 it was also the era of the Speedmaster with the original 321 movement. The price of these Speedmaster s is gone, but you can find Seamasters equipped with the same movements for less than 3000 euros. Overall, the end of the 1960s was a crucial period in the history of watchmaking marked by competition from Japanese watches and a general decline in quality. The movements with a very "curious" design have been put on the market as the Omega 980 (Lémania 2980), in the 1970s electronic watches and then quartz prevailed over good mechanical watchmaking, metals much softer than me They are used to reduce costs.

Omega Seamaster 321 (around 3000 euros)
If you have read the previous chapter, you will understand why you should avoid the Omega watches of the 80s, unless you are a great lover of quartz. For mechanical watchmaking, Speedmasters often switch to Lémania 5100. I know how popular this movement is for certain lovers of antique watches, it has become extremely popular in the second-hand market, but it is probably one of the worst. The chronograph movement was never manufactured by a Swiss manufacturer (some parts are made of plastic, poor automatic system, etc.), and the spare parts are too expensive.

Omega Seamaster Quartz (can be negotiated for less than 100 euros on Ebay)
A choice of heart or a pragmatic choice?
Buying a mechanical watch is rather a choice of the heart, someone pragmatic and not very passionate about watches will prefer a more accurate and cheaper to maintain quartz watch, but for a lover of old watches, it makes sense to choose a watch with the test of time with a timeless design accessible to all budgets.